DAMCO SURVEY AB EXPANDS AS LLOYD'S AGENT IN SWEDEN EFFECTIVE FROM 1 APRIL 2016

Damco Survey AB – being a Lloyd's Agent since 1985 – announced today that its Lloyd's Agency territory has been extended to cover the following Swedish provinces in their entirety:
* Skåne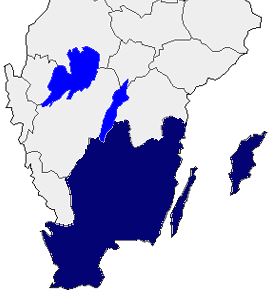 * Blekinge
* Kalmar (including the island of Öland)
* Kronoberg
* Jönköping
* Island of Gotland
See the covered territory in the enclosed map
Rolf Ljunggren, CEO said: "I am of course very pleased about the extended appointment and look forward to continuing to serve all our worldwide based clients to the best of our ability."
Lloyd's is the world's leading specialist insurance market. Lloyd's is not a company but the provider of a market place where members join together in syndicates and as managing agents to insure a multitude of risks. Lloyd's Agency Department (LAD) is wholly owned by Lloyd's and manages the highly respected Lloyd's Agency Network.
For further information please contact Pernilla Myrefelt: damco@damco.se
Damco Survey AB is one of the oldest Swedish independent Cargo, H&M, P&I, CMR, Aviation surveying companies & Special Marine/Non-Marine Investigators in Sweden acting as a Survey and Claims Settling Agent for a large number of Insurance Companies from all over the world with experienced and competent in-house staff including master mariner, marine engineer, civil engineer, lawyer, cargo surveyors, consultant naval architect and aviation accident investigator. Damco Survey AB offers reliable, qualified and fast service under the motto for the benefits of its clients who represent Competence, Confidence, Safeguard and Service all sides of the maritime and logistics industry such as Cargo – H&M / Yacht / Aviation / CMR Underwriters, Shipowners, P&I Clubs, Lawyers, Brokers etc.